UCU Graduate Mark Muzira Helps Refugees with Mental Health Issues Over Four Years
Aug
15
By Brendah Ndagire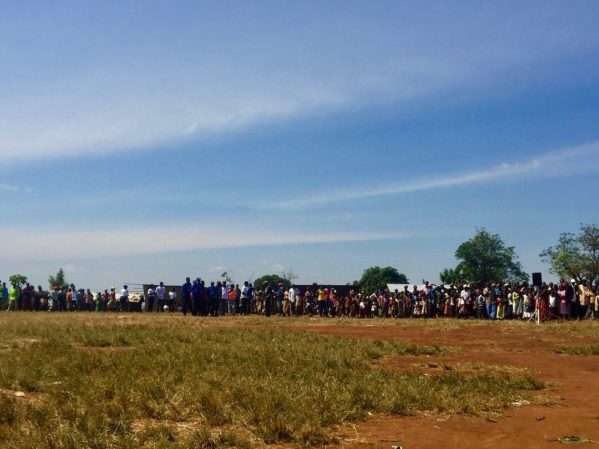 In recent years, Uganda has been ranked by the United Nations High Commissioner for Refugees (UNHCR) as the most favorable country for refugees from neighboring countries such as the Democratic Republic of the Congo, Burundi, and South Sudan. Once refugees are resettled in Uganda, they are given many opportunities. These include access to land, employment, starting small- and medium-sized businesses, and quality education. All of these are necessary for helping refugees to integrate in different communities across Uganda and to take care of their families. It creates an opportunity for them to live a dignified life—a life that is different from their counterparts left behind in conflicting communities.
This month, Uganda Christian University Partners is highlighting the experiences of some Uganda Christian University (UCU) alumni who are accompanying Burundian and Congolese refugees in distinct roles at Kyaka II settlement community. Mark Muzira is a UCU alumni who graduated in 2012 with a Bachelor's Degree in Social Work and Social Administration. He has been working with refugees for over four years with the past two years as a Psychosocial Counselor with the  American Refugee Committee (ARC). Before joining ARC, he was working with an urban refugee program in Kampala, at a refugee resettlement organization called Inter-Aid Uganda. (This interview has been edited for clarity.)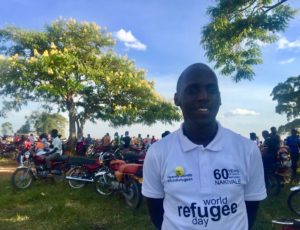 What inspired you to study at Uganda Christian University?
I was motivated to join Uganda Christian University because of the quality of education that was guaranteed there. The UCU motto, "a center of excellence in the heart of Africa," inspired very many secondary school (high school) graduates, including myself, to attend the institution. But it is not just their quality education; it also was their identity with Christian values of servant leadership. The three-to-four years I spent at UCU, my professors equipped me with soft and hard core skills needed to thrive in my current work within the non-government development field.
What are some of your experiences since graduating from UCU?
For a while I volunteered with different non-government organizations in Kampala. I was really interested in working with urban youth. I did some online job searching and that's where I found Inter-Aid Uganda. While I was there, I worked as a Youth Liaison in their urban refugee program, mentoring teenagers and leading their peer-to-peer program. It was with Inter-Aid that  I found my passion in working with refugees resettled in Uganda. I am currently based in Kyaka II settlement community. I think the time I spent studying at UCU equipped me with certain Christian values, such as treating people from different cultural backgrounds with respect, on top of being a great role model in communities where we are working and living. I owe a lot to UCU for making me a leader, and planting in me seeds of excellence in ways I interact with refugees here.
How did you hear about American Refugee Committee?
While working with Inter-Aid Uganda, we had a partnership with ARC in working in the Urban Refugee Program. During my spare time, I would do research on ARC, and I found that the refugee work they were doing was both complex and interesting. Later, I found out that they needed a psychosocial counselor. I applied for the job, and I got it.
How many refugees are you working with?
With the refugee influx we are experiencing in Kyaka II settlement, we are currently receiving new refugees every week. We are having over 60,000 refugees coming in every day. And the fact that the war in the Democratic Republic of Congo is on-going, we expect more and more refugees will be entering the border of Uganda and eventually to Kyaka II settlement.
Share with us about your work with ARC.  How is it different from other Implementing Partners (IPs) in Kyaka II Settlement?
My role is to identify refugees who may need mental health and counseling support, and refer clients who may need extra help to an expert in therapy. There are many non-profit organizations working to implement different refugee resettlement activities in the area. However, each organization is mandated by the UNHCR to implement a specific project. In that respect, ARC's mandate is to provide mental health and psychosocial support to refugees resettled in Kyaka II and neighboring communities. ARC also implements youth activities geared towards enhancing mental health including sports such as football, and competitions in music, dance and drama (MDD). This makes mental health and awareness our main focus and contribution to the wider wholistic approach to rehabilitating and reintegrating refugees.
Other partners, such as the Danish Refugee Council, implement Water Sanitation and Hygiene (WASH) projects and education. Still others implement livelihood related projects such as agriculture. We do this in partnership with the United Nations High Commissioner for Refugees (UNHCR) and Office of the Prime Minister.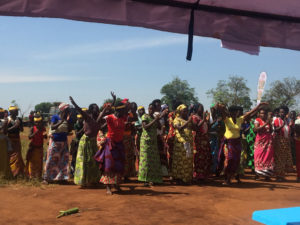 What has been your highlight working with refugees in Kyaka II for the last two years?
The resilience and positive attitude of refugees towards their future. Refugees experience very difficult challenges.
Many (refugees) are not aware that they are struggling with the trauma arising from the daily witness and experience of armed violence.
Additionally, they struggle integrating into the community, finding a job and building a new life here. Because they engage in different community integration  processes, they eventually emerge from being unemployed to employed, to leaders in their own communities, to business owners, and to musical artists.
Finally, Nelson Mandela once that, "education is a powerful tool that can be used to transform the world." How do you translate those words in your life at UCU and now with ARC?
Education has definitely been a wonderful tool to have in my life. If it were not for the good quality education I received from the UCU, I would not be able to work with a respectful organization such as ARC. My education has created for me a foundation to be where I am and be able to give back to the refugee communities. The classes (such as counseling, gender, and research methodologies) I took during my time at UCU are now fundamental to my work here with ARC and the wider community.
For more information about how you can sponsor a student who might make a difference as Mark Muzira is, contact Mark Bartels, UCU Partners executive director, at mtbartels@gmail.com.