Namibia Trip Report 2018
Jun
19
Why did you take you so long to get here?" Fr Lazarus Ngube looked at me enquiringly.
It had taken us longer than usual to get to Windhoek as we had wanted to first visit Fr Martin Kauna in the isolated coastal town of Luderitz…so we had taken a long way round through Sendelingsdrif (Missionary's Fjord) where we were floated across the Orange (or Gariep) River from South Africa to Namibia. This is a harsh and rugged landscape, but because of the generosity of our partners in the US, we had what we fondly call "The Godmobile" (thanks Jim Bannister for the name!), a Mahindra Scorpio 4 wheel drive SUV…and she was at her best on the most challenging roads, whether rocks and boulders or really thick sand. One of the things I like best about the Godmobile is that she "purrs" when in 4 wheel drive.


So, it had taken us four days to get to Windhoek instead of two…plus I was presiding over a wedding in the stunning Kalahari dunes. My cousin's daughter had asked if I would consider officiating when we saw them at her grandmother, my aunt's funeral last December. What an honour! Anib Lodge was the location…very close to where my cousin and I grew up…so while we made new memories we also remembered old ones.
Four days later, we started the training at St Michael's Anglican Church in Katatura…
But I knew that travel time was not what Fr Lazarus was talking about. He was talking about the disciple-making training we call Strategy. The small group of four, Fr Lazarus, Fr Immanuel, Fr Paulus, and sister Eunice (we also had a pre-med student the first day by the name of Fillemon) all agreed that this material was what they had been waiting for a long time.
Following Bishop Martin Breytenbach's lead, we took three days to complete the training instead of two. It is such a huge paradigm shift from the maintenance method (or attractional model) to the missional method (or disciple-making model) that one has to allow time for questions, discussions, and reflection. At the end of three wonderful days, we decided we needed to start making plans to return next year, but not only for three days in Windhoek!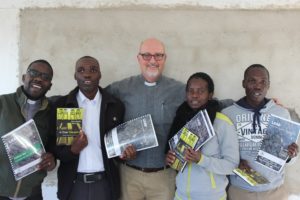 Because of the vast distance and the great expense of getting folks together in one place for training, we thought it best if we travelled throughout the length and breadth of the country, training in as many areas as possible. Such a feat would take about three months…but it would be well worth the effort!
We also visited the smallest Anglican Cathedral in the world…St George the Martyr in Windhoek…that also happens to be the church where I was baptised back in 1962! Apparently, the font had been donated to St Michael's a few years ago…but we didn't know that until we had gone. Sigh…next time.
We spent two more days with my dear cousin and her husband at their lovely retreat close to Rehoboth. It was a good time for us to rest and for Louise to recover from a very nasty tummy ailment.
We returned to South Africa to find that our Lord was answering our many prayers for rain! The level of one dam went from 4% to 40% overnight! We have yet to see our Theewaterkloof dam, but we have heard that it is significantly fuller than when we last saw it two weeks ago! Praise the Lord with us for His grace and mercy!
God willing, Louise and I will leave for Ethiopia and Egypt this Friday. We will be attending the first graduation of the College we started four years ago where I will deliver the main speech. We will also be training students, local priests, and staff in both Strategy and Foundations while there. And I will also be presiding over the blessing of the marriage of one of our former students! We will then move on to Cairo where we will meet up with so many dear friends, and also train folks in Strategy.
Please keep us in your prayers…we really need our Lord to bless this trip with His amazing life-changing Presence! Then again…we always need Him, don't we? We really can't do anything without Him and we really can't do without you all either! God has given us an amazing body of people with all sorts of different talents and skills – we need each one of you if we are to function in a healthy manner.
Thank you again and again for your love, support, encouragement, and partnership in the Gospel!
Many blessings
Johann and Louise