UCU Students' Internship in Adolescent Girl Education in Northern Uganda
Feb
10
By Akongo Ruth Rose, UCU Student, Mass Communications & Patty Huston-Holm, UCU Visiting Professor (7th February 2018)
(In late November-early December 2017, three Uganda Christian University students in Mass Communications participated in a one-week internship focused on adolescent girl education and lead by Dr. Diane Ross with assistance by Dr. Pegi Lobb, both from Otterbein University in Westerville, Ohio. The Uganda Christian University students of Professor Angella Napakol were Mercy Agenorot, Akongo Ruth Rose and Adiru Hope. Akongo provides this account.)
For one week of our final year toward receiving a Bachelor of Arts in Mass Communications at Uganda Christian University (UCU), two other students and I had the opportunity to participate in an internship with two American professors. Our job was to assist with an empowerment project involving adolescent girls in Uganda's West Nile region. The project focuses on the use of personal story telling to increase self-esteem and improve the school retention rate for girls. Fewer than 11% of girls in this region finish secondary education – one of the lowest girl child education rates in our country.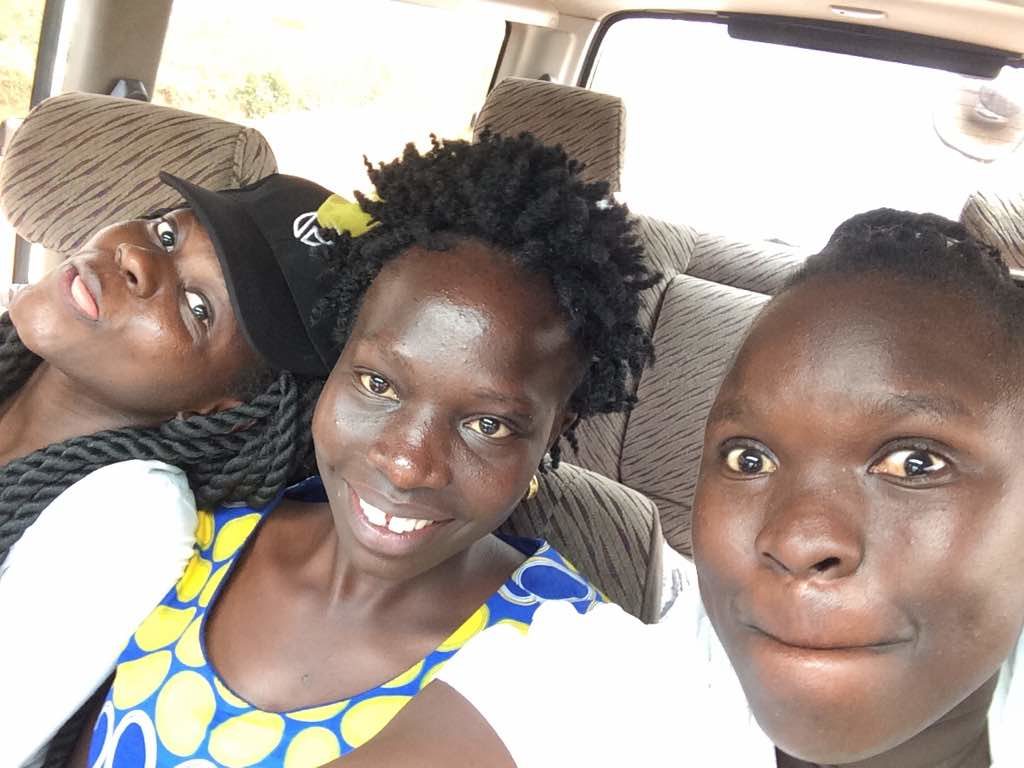 We knew the rate was low because the three of us grew up in this geographical part of Uganda. We knew some of the reasons. What we didn't realize was how telling our own stories to these younger girls and listening and providing feedback to their stories could help. For six days, we took our listening, public speaking and feedback skills from the UCU classroom to approximately 160 girls in four real-world settings of an area of Uganda bordered by the Congo and South Sudan.
We met about 20 girls ages 11 to 16 in each the P6 level classrooms of Galia, Arua Hill and Atratraka primary schools and about 100 older girls in the Bidibidi refugee camp in Yumbe. They had touching and painful accounts of their lives. Many of the more than 60 schoolgirls we met walk long distances to go to school and may spend a night or two without food. The 100 girls in the settlement camp at the Uganda-South Sudanese border live with memories of murder and rape. Just inside Uganda now, they are relatively safe from the acts but not from the thoughts.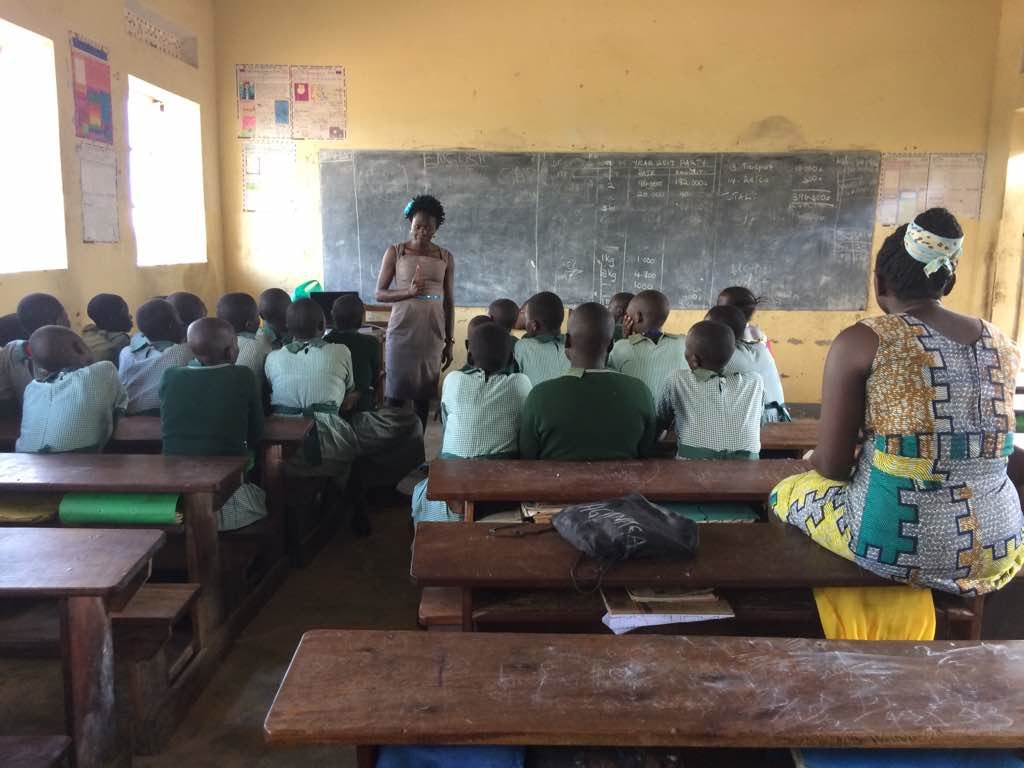 The school girls told us about drunkard and imprisoned fathers with multiple wives; about abuse from those fathers and other men and even boys; about sneaking out to go to school; and about no money for school fees, uniforms and supplies.
One girl wrote: "Those of us without pencils are given sticks by teachers. We do our lessons in the dirt, and teachers grade them from there."
From others within the three schools: "My father says I am wasting my time at school."  "He says, 'I will kill you. You are worthless. I'll throw you in the pit latrine. Go away before I kick you like a ball'." "The boys won't leave me alone." "My mother has 11 children and can't afford fees for girls." "They want me to stay home and watch the babies."
The settlement camp girls have writings about living with the sound of guns and the smell of blood, with the cries, begging for mercy and the knives cutting through the throats of loved ones in their memories. Some ran without parents, living on their own while others managed to escape by being raped by the rebel soldiers and are now caring for those babies from fathers they will never know.
But in the midst of these messages of desperation were expressions of support – writings about hard-working peasant farmers trying to get money for girl school fees and about the camp girl's relatives that may still be alive. There were words of hope with dreams of becoming teachers, midwives, nurses, doctors, builders and bankers.
"I want to be elected to parliament and not be an evil leader," one girl wrote. "I want to be able to get electricity to the villages."
From another: "I want to be Uganda's first female president."
As I interacted with adolescents, it brought peace in my heart to hear girls talk about their futures. Today's girls in Uganda tell us that empowerment of a woman should not only be about the babies they produce, but also other contributions connected to the development of their country and the world.
Previous research shows that personal story telling increases self esteem and awareness of possibilities to realize dreams. During our nearly seven days of time with girls in four West Nile locations, we realized the value of not only listening but serving as older role models – Ugandan young women about to graduate from the university. I talked about my plans to be a writer. Mercy wants to make it in the film industry.  Adriu would like a career working with kids.
Another aspect of the project involves teaching about the menstrual cycle and erasing embarrassment about this natural part of growing into womanhood. The American university faculty provided this education, including about menstrual hygiene and reproductive health.
All the girls we met love school. They want to learn. They want to go to the university some day. They want to be part of a new statistic – to raise the current literacy rate of only 29% for women in this region.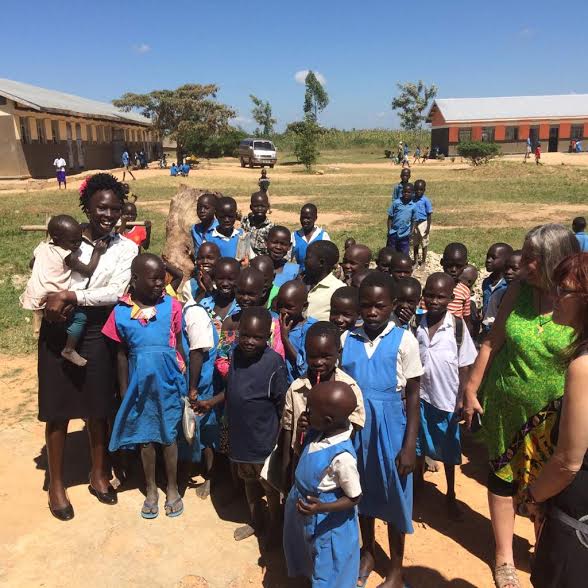 While we were there to help them, hearing their stories helped close the gap of fear in me. If these girls could overcome their obstacles, I, too, could move on from any negatively I've had in my life. While I know we were there to help the girls, being with them gave me added courage to overlook my own education distractions and stand up as a young woman and be proud of who I am.