Using Prayers of the Bible as models for your Prayers (Part 3)
Jun
16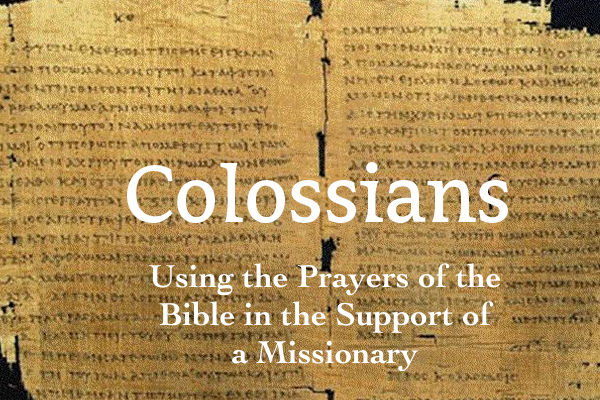 Part 3
In this third part, we continue with the premise from Part I, that much of the content of our prayers can wisely be modeled after the prayers we read in Scripture, and in this particular example, from Paul's prayers in Colossians Chapter 1. (For a bit more context please see the previous blog post of Part 1 of this series). Note: this excerpt is directed toward the Sender who is seeking guidance in the prayer support of a missionary.
"That you might walk worthy of the Lord unto all pleasing…" (Colossians 1:10)
Phillips ' translation puts it, "That your outward lives which men see may bring credit to your Master's name." Watchman Nee said, "If you want to be a missionary in China, plan on wearing a 'learner's permit' around your neck for the first ten years!" Due to diverse cultural distinctives and your cross cultural worker's lack of ability to communicate deeply, it is often the love of Christ working through his lifestyle that gives the Gospel message.
Another perspective, of course, is that "What you are doing speaks so loudly, I can't hear what you are saying!" When your worker's actions differ from his words, it will be his actions that the people among whom he ministers will believe.
The enemies of the cross gave the name 'Christian' (little Christ) to the believers in Antioch (Acts 11:26). It was a dirty word then, but since the followers of the Way were living epistles, known and read by all men (2 Corinthians 3:2), they were easily identifiable. Are we so easy to identify?
A team of college students walked into a remote village in Central America where there were no Christians. Their job was to paint a school building a previous team had built. They were excited to share the Lord, so the weight of their luggage and equipment seemed light.
As they entered the square, they were met by the village captain. He told them that his people had heard all they needed to about this man, Jesus, from the last team. "We don't want to hear another word you might have to say. Just paint our school building as you said you would. We will watch you. When you have finished, we will let you know if we want your Jesus."
The team knew that their outward lives would be living epistles, 'the Word written on the fleshly tablets of our hearts" (2 Corinthians 3:2-3). All that they believed about the Word was put to the test in that village. Those students "walked worthy of the Lord"; when they were ready to leave, ten people including the village captain trusted in Christ as their Savior!