What To Say & When To Say It: How to have the Talk About Sex & Relationships with Your Kids
Nov
11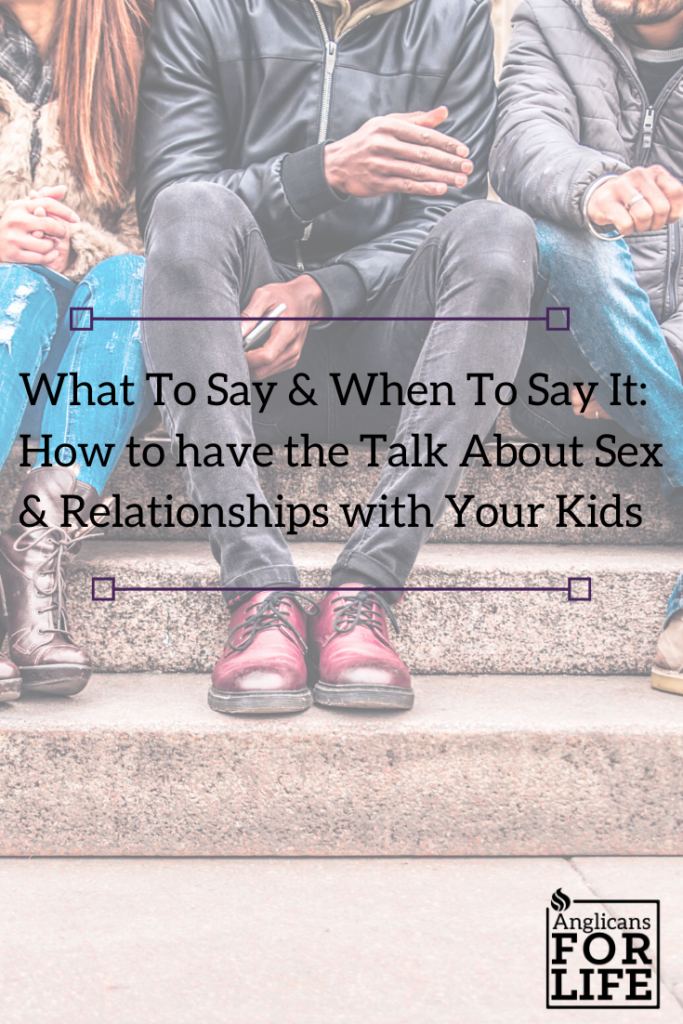 Let's just get this out there: We all dread "the talk." The talk that no parent looks forward to, but all parents know is critical. The sex talk reduces most of us to our middle-school-selves, all tongue-tied, darty-eyed, and fidgety. The talk is something parents desperately want to do well, but perhaps lack confidence in doing, while fearing failure on our part will deliver a debilitating blow to the healthy development of our children.
As your children age, it's my hope that you've had a basic conversation with them already, about relationships and how sexuality fits into God's design of relationships, setting the stage for them to have more mature talks as they grow. But, why start talking about relationships when they are young? And, more importantly, why continue talking about them when it can be just plain awkward?
Again, for most parents, it's not because they don't want to do it. It's most likely because they don't feel equipped to handle the awkwardness that results or they don't feel equipped with enough information to even jump-start the conversation.
Did you know that in today's digital age the average kid has their first encounter with pornography at 11 years old? Eleven years old. That's not a typo, friends. In fact, some of the most recent studies are reporting that age is dropping to as low as eight years old. You don't need me to tell you how drastically different our world is now than it was 25 years ago. We could choose to lock away our students until they are thirty, or we can give them the knowledge that will hopefully shape their sexual integrity into something that reflects both well-informed decision making and unrelenting self-respect.
The harsh reality is that if you don't talk to your kids about their identity and how that identity shapes how they interact with the world, somebody else will. Churches, if we aren't partnering with parents in continuing these conversations in a way that is glorifying to God in a safe place where they can wrestle with questions and doubts, we are not being the voice of Truth that we are called to be in their lives.
Relationships are good, in fact, they are VERY good, because God made us for relationship with Him. But relationships are only good when they are done well, looking upward at Jesus and recognizing that true intimacy comes from a relationship with the Creator. Only then, are we able to go into the world and form life-giving relationships with other people.
Here are some tips for talking to your kids (adapted from Harvest USA):
"Pick your pain": Will these conversations be uncomfortable? Yes. But that pain pales in comparison with the pains that can come from a family where these conversations never happen and a student is left to go to other places to find the answers to questions they will ultimately have. Push past the uncomfort for the sake of your kids, and I promise you, they will thank you later.
Start the conversations early: The idea that "the talk" just has to be a one-and-done thing is out-dated. These conversations should start from a very young age, where you talk to your kids about who they were created to be, basic body parts, and the differences between men and women, and they should continue as your kids age, with continued intensity and information to equip them. Remember, you have the ability and the power to be the first impression and the loving authority on these subjects with your kids, and I think that's such a gift.
Invite questions, and give plenty of grace. Don't be afraid of the silent moments either. Don't be afraid to say, "I'll have to think about that and get back to you." You don't have to have all the answers – and this is a great opportunity for you to show humility, ask for forgiveness, and seek God's will as to what He would have for you to do.
Who has the power to influence your children? According to research, that answer depends on the age of your child. From ages 0-7 parents have the strongest influence, from 7-11 teachers and coaches, and from 11-16 their peers. This makes sense because as their world widens, they are met with forces outside of the home that have new and different ideas that sometimes reinforce what was taught at home and sometimes challenge them.
No one does it perfectly—absolutely no one. So put the idea of perfection out of your mind. Instead of being paralyzed by fear, lean in to conversing with your kids as purposefully and as simply as possible. Pornography, gender confusion/dysphoria, same-sex attraction, masturbation, peer pressure, the casual hookup culture, the "sex talk"… these are hard topics! I'm not a parent yet, but I have a feeling when I have to have these conversations with my kids, I will be terrified, too. I encourage you to seek wisdom from God, ask for prayer within your community, and pray that the Holy Spirit would use our words and transform them for your child's good and His glory. Remember, He loves them more than you ever could – and that's where transformation happens.
Lean in, pick your pain, embrace your role, and go forward knowing that God will equip you and He has already gone before you.
By Sammie Gallo, Creator and Author of Abundant Life: You Were Made for More and AFL Ministry Coordinator. This blog post was originally featured on the Abundant Life: You Were Made for More blog.