USA 2018 Faith and Relationships Through UCU Leadership Eyes
Jul
8
By the Rev. Canon Dr. John Senyonyi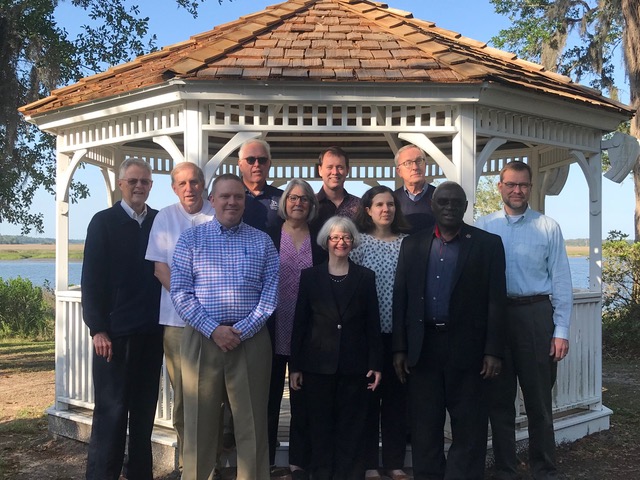 Uganda Christian University Vice Chancellor Visit at Wesley Gardens Retreat Center, Savannah, Georgia, USA
Front Row: Mark Bartels (Executive Director, UCU Partners), Rev. Dr. Joyce Brooks
(President of UCU Partners Board), Rev. Dr. John Senyonyi (VC, UCU)
Second Row: Dr. Murray Black (Treasurer, UCU Partners Board), Dr. Tom Gurley, Marcy
Osterhaus, Gwyneth Preu, Kyle Royer (Treasurer, UCU Partners Board)
Back Row: Dr. Ken Bussema, Dr. Brian Dennison, Rev. Dr. Larry Adams
(John Senyonyi, Vice Chancellor at Uganda Christian University, and his wife, Ruth, were in the USA April 3 to May 2, 2018.  During that time, they visited eight states and the nation's capitol. This blog entry is Dr. Senyonyi's reflection of some of that experience.)
There is a silent cry for Africa and the Southern Hemisphere Christian community to stay steadfast and to give the West much needed evangelical fellowship. Sadly, several theological schools in the West have moved away from the authority of the Bible and have succumbed to theological heterodoxy. The same can be said about some churches in the United States.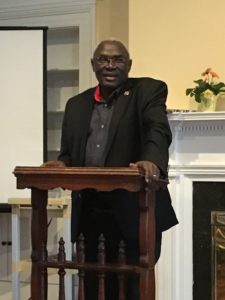 There was much positive in the recent, one-month visit that my wife, Ruth, and I made to Washington, D.C., Atlanta (Georgia), Chicago (Illinois), Norfolk (Virginia), Montgomery (Alabama), Cincinnati (Ohio), Savannah (Georgia), Charleston (South Carolina) and San Diego (California). I preached in four churches in two states: the Christ Anglican Churches in Atlanta, Montgomery and Savannah in Georgia; and New Life Presbyterian Church in Escondido, California. While on this annual trip, I was named Alumni of the Year 2017 at my alma mater, Trinity Evangelical Divinity School. The fellowship with our American brothers and sisters in Christ was amazing.
However, we came away praying for strength among Christians battling western secularism and related liberalism in churches. We pray for truth in faith both in doctrine and practice.
'More than a factory of African graduates'
Many Christians we spoke to hope that Uganda Christian University (UCU) will remain a theological beacon of light amidst the religious confusion of the West, and will produce graduates faithful to the Gospel. Now as I am back in Mukono, Uganda, I realize even more that UCU must see herself as more than a factory of African graduates. UCU has a global mission and owes it to world Christianity.
The objective of the annual visit was to increase awareness and raise support for UCU. We did this through messages and conversations at universities, churches, and with special interest groups, as well as among those attending the annual UCU Partners (UCUP) Board of Trustees meeting. The UCUP Executive Director, Mr. Mark Bartels, arranged the itinerary so that current and potential partners might have first-hand contact with me.
New Medical school
This visit happened shortly after the announcement of accreditation of the UCU School of Medicine (UCUSoM), thus making UCUSoM a focal subject in many of our meetings.
News of the UCU School of Medicine was welcomed wherever we announced it. Of course, we made clear the uniqueness of UCU's brand of education reinforcing that as with all our academic programs, Christianity is what we also wish to see in the health care worker coming out of the University. As our Mission says, UCU works "To Equip Students for Productive, Holistic Lives of Christian Faith and Service." To this, we must remain true.
Suffice it to say that the UCUSoM will be the major fundraising project for UCU Partners for the next several months. We met many potential partners who included the Friends of Mengo Hospital, the One World Health in South Carolina and others in the churches we visited.
One World Health may be a low-hanging fruit given that they are already involved with a Hospital in Masindi, Uganda. They promised that if through their fundraising networks they found support of a Medical nature that was best suited for the UCUSoM, they would gladly direct such donors to UCU's Medical School. A pleasant surprise was finding one of our UCU graduates at their office. Our graduate is married to a One World Health staff member in Masindi. That meeting and our graduate's excitement at seeing me in the United States helped put a face on my words of UCU's influence in projects around the world.
Law, other academic relationships
The newness of the medical program joins the traditional strong positive reputation of UCU's law program. The Faculty of Law is considered the best Law School in Uganda. Proudly, we have maintained the balance between law and faith. We are cautious about conscientious partnerships that will ensure UCU's Christian character in the lawyers we send out. This visit renewed and strengthened some old friendships with UCU, especially with the privately funded, Regent University Law School. We also visited the public University of Cincinnati School of Law.
Likewise, we renewed friendships with Wheaton College and Water Mission. The latter donated portable water equipment to UCU years ago. But it also gave me opportunity to explore new ventures such as the Charleston Southern University (CSU) and the Clemstone Architecture Centre. CSU is a Christian University ready and willing for a relationship with UCU.
Church leadership 'true to the Bible'
In addition to these important contacts related to UCU programmatic growth, I met with Rev. Dr. Peter Moore, director of the Anglican Leadership Institute that offers training seminars to develop church leadership. He is interested in sharing his expertise with UCU.
This is vital for two reasons. Much Christian Leadership in Africa has tended to model either the secular leadership models around them or their cultural exemplars. This fails to address contemporary challenges and the need for Christ-centered leadership. Secondly, there is a dire need for African theologies that are true to the Bible and which will address modern-day issues adequately.
We also encountered people interested in partnerships with UCU's Think Tank, the UCU Africa Policy Centre (APC), to preserve the family as God intended it. Among these we had discussions with willing partners such as the Family Research Council (FRC), a chat with Dr. Alan Carlson and the now late Larry Jacobs of the World Congress of Families, and a group of Roman Catholic journalists that were brought together through our contact with Dr. Mary Eberstadt, an American author. We expect to host Dr. Eberstadt at our 2020 annual UCU Public Lecture.
Given the ambivalence on Family in the West, conservative voices want to see UCU's APC become a viable influence in Africa and worldwide. Therefore the founding of the UCU's Think Tank, the APC, is timely as a voice into the public square.
The family has suffered its fair amount of onslaught from secularism, and yet its breakdown spells social disaster. The need for authentic African Christian reflections on family life is more urgent than ever before. This will preserve African culture and stability for the family in accordance with God's purpose.
++++
For more information on how to contribute to UCU Partners, contact Mark Bartels at m.t.bartels@ugandapartners.org.