Alumnus Profile: Lubega Christopher
Feb
14
By Rev. Kamoga Alex, Chaplain – UCU Kampala Campus & UCU Alumnus, Child Development (25 January 2018)
Lubega Christopher is 26 years old. He comes from a humble background and  is a son to a retired civil servant and a retired midwife. He went to Mugwanya Preparatory School Kabojja for Primary Leaving Examinations, Namilyango College school for his O' level and  Makerere College school for A' level. He holds a bachelor's degree in business administration from Uganda Christian University and  is currently doing a Masters of Arts in Financial Services at Makerere University in Uganda.
Lubega's interest in business started when he was in O' level at Namilyango College. His mother would give him pocket money and he would save a fraction of it. During that time, his family was starting up an events company dealing in tents and chairs after realizing the need to create a source of income for the family. Every end of term he would collect his savings and add them to what his mother had saved and they started making tents. He remembers the joy he would feel whenever they would load the poles on the small pick-up driving back home. It felt like victory in his heart.
When joining Uganda Christian University, Lubega registered late and he was not able to get placement at main campus in Mukono, so he was sent to the Kampala campus. This put him down as he felt so unlucky not to get to the main campus. But little did he know that this was to become a blessing to him in the long run.
While at UCU's Kampala Campus, finding food for meals many times was very difficult as restaurants were not common in the area. At times, Lubega and his friends had to go from Mengo, the site of UCU's Kampala Campus, to Makerere near Makerere University to find good and affordable food. He noticed this gap of service in the Mengo area and he decided to pursue this opportunity; he made a deal with a restaurant: he would buy large amounts of food from them at a reduced price and sell the food to staff members at UCU's Kampala campus. One time one of the staff members called him and gave him an opportunity to supply food for 12 people at campus. "Fear sprung in me but something was telling me you need to do this and therefore I did it and it turned out successful," Lubega narrates. After that, he knew that the time to start his own catering company had come.
He started organizing himself, secured some funds, and started small. His catering company started growing slowly as he started getting bigger  contracts. He was committed to delivering quality services and this has taken him to greater heights. Today, Lubega employs several men and women in his catering company, and every time there is a party at UCU's Kampala Campus, he is the first person who is contacted to provide food. Recently when Chaplaincy was concluding the ALPHA Course at UCU's Kampala campus, it was Lubega who served the food. His organization, hygiene, and customer care are exceptional!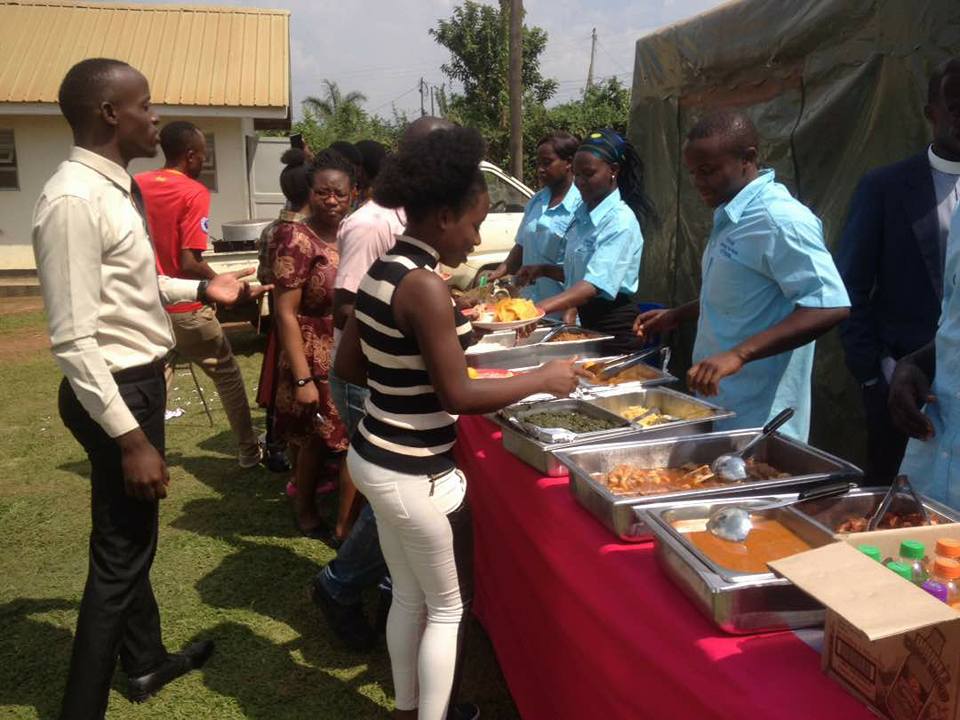 Lubega is so proud of the many values he learned from his time at UCU, such as honesty, humility and prayerfulness. Applying such values has been of great significance in his business and this has made his services distinct. He further asserts that UCU has nurtured him into who he is today. "It is from this great institution of UCU that I have got exposed to the businesses I am currently doing, especially the guild government where I served in the period of 2013-2014 as the guild deputy speaker. The position greatly helped me build my confidence, decision making and communication skills".  He is especially indebted to Mr. Baguma Edgar, the  UCU Kampala campus's Director of Student Affairs, who has helped him make many connections for his business to grow.
He is motivated by the parable of the talents. He desires to be like the servant who was given 5 talents and produced 5 more; he wants to make sure he uses his hands, ears, nose and legs to get him to places. He says his master God made him perfect and put him in the perfect world to make it a better place to live in.  He plans on extending his catering services beyond the borders of Uganda, and eventually beyond Africa, so that he can employ as many people as possible and leave a lasting legacy.
He advises students to be the best they can be in character, work hard, and focus on relationships with people around them. He challenges students to look at the opportunities that are within the challenges around them and make good use of them to find benefit within such challenges; he thinks that  It is important for students to position themselves as problem solvers in life.
He shares that: "we should stop complaining and start on creating what we want to become… Let us change the mindset and look at working on the solution but not the problems because the solution solves the many problems we always want to look at."