UCU Alumna Profile: Zalwango Prossy
Jan
25
By Rev. Kamoga Alex
Zalwango Prossy is a 22 year old recent graduate of Uganda Christian University. She was born in 1995 in Seeta, Mukono District, in a family where she lived with her father, mother, and two sisters–Nakalema Suzan and Nantale Damalie. When she was 3 years, her parents divorced; one key reason for the divorce was that her mother had only given birth to girls. A year later, while in Primary Five, her father brought a step mother to his home; this step mother treated Prossy and her sisters poorly, she denied them access to things such as education, food, speech, and friendships. This forced her elder sister, Nakalema, into marriage at the age of fourteen because of the desperate straits they were experiencing at home.
Due to the tough situation at home, Prossy and her young sister escaped to their mother's place. Though her mother had little financial capability, she continued looking after them and she strived to educate Prossy until her Senior Four year of school. However, Prossy's mother developed a back injury during these years and she could no longer operate the restaurant she had previously opened. When this happened, she became unemployed and could not pay further tuition for Prossy and her younger sister.
At this point, though Prossy had little hope to go back to school, God raised a neighbor in the community who helped to pay school fees for her from Senior Five to Six. Because of the great responsibilities that surrounded him, this neighbor could not continue to pay for her studies.
At this point, she did not see much hope for proceeding with further studies. Yet she had a burning zeal to go for further studies and had faith that one day she would make it. So, she applied to UCU, and by the grace of God, she was able to enroll. Together with her little sister, she worked hard to raise her tuition and the money to sustain her through small jobs, such as tilling people's land and doing laundry for people around the village, in order to get part of the tuition and money. Additionally, Prossy would also teach at a primary school, Kisaakye Primary School in Seeta-Bajjo in order to obtain tuition though this made it difficult for her to balance work and studies.
Her life at Uganda Christian University was a hustle from her first to her final year. She would often be laughed at by her classmates.  She narrates a past experience with her classmates in this way:
"… Dust would be all over me, old shoes and faded clothes, that one could easily explain the situation I was in. I could walk a long distance from home to university. I remember one time during the community worship hour, a tent was pitched and my classmates were looking for me. One of them peered from below the tent and told the neighbor, 'look! I have seen some old shoes, that should be Prossy,' and, Yes, I was the one!"
Throughout her campus life, she never stepped into the university restaurants, and she would always fail to meet the tuition payment deadlines as it would be tough on her to clear tuition balances. She would always dwell in tears towards the end of the semester for being among the very last students to pay tuition balances.
Despite all of these challenges, she still was able to excel in class.  She graduated with a first class degree with honors, with a GPA of 4.79 and emerged the Best Overall Female Student and also the Overall Best Performing Student in the Faculty Education. Prossy is immensely grateful to God who made it possible for her to graduate on 27th. October, 2017, and is now proud to be a qualified and skilled teacher with a first class degree from Uganda Christian University.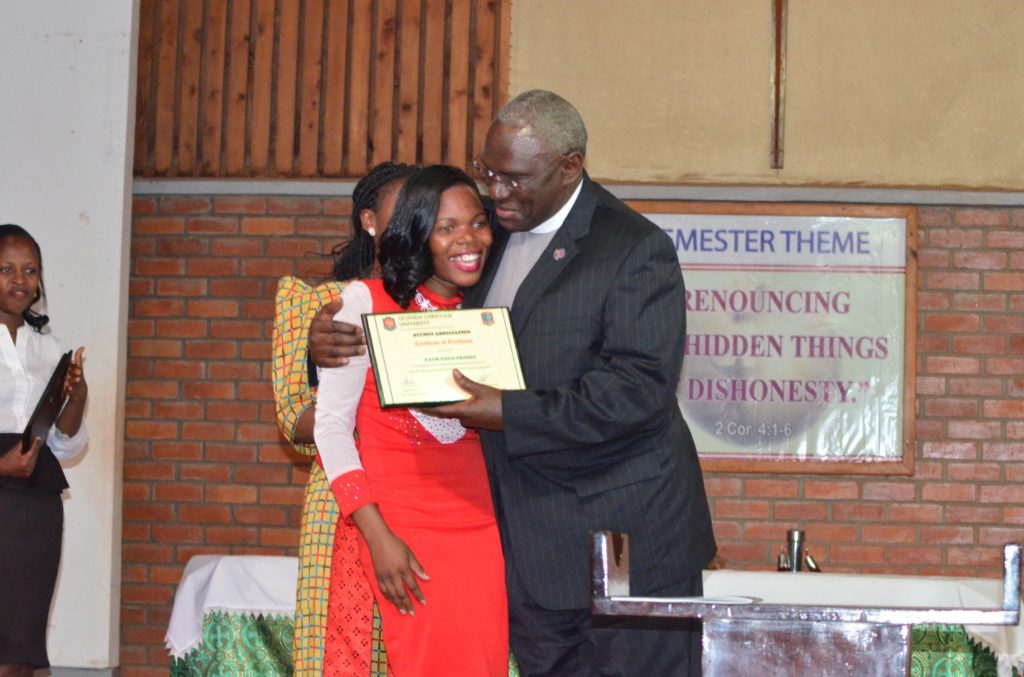 As she looks back on her past three years of her BA program, alongside her several side jobs, she is so thankful to God for the different University programs that helped to support her as a student. These include such programs as the Guild Fund (a scholarship fund established by the students government), and the Work and Study program under Financial Aid office( where a student can work for the university and earn some money towards their tuition). She was also member of the Honours College, a leadership programme at Uganda Christian University, and learned much about being a leader in this program. Besides the mentioned programs, several departments, such as the Chaplaincy, also helped her through supporting her with money for upkeep and encouraging her despite her personal hardships. Every time she felt like giving up, she would go to Rev. Rebecca Nyegenye, the University Chaplain, for counsel. She remembers a time when Rev. Rebecca was preaching in community worship and shared the Biblical concept: "You are a chosen generation, a peculiar people, a royal priesthood." This message encouraged Prossy to continue to work with diligence and to be faithful to the Lord in her studies.
Above all, she praises God for giving her faith that helped her look to Him; He was her Father who would watch over her despite being abandoned by her biological father. She had confidence that the Almighty God would not leave her as an orphan or forsake her, but would come to her rescue and make her victorious in her studies. So, she praises God for blessing her and she is so thankful for the trust she had in Christ that helped her walk rightly with the Lord and discover her identity in him through these past three years of her BA program.
She is currently a volunteer in the Vice Chancellor's Department at UCU while she looks  for employment opportunities. She would like to do a master's in educational planning and management in the future and she hopes to impact her community in the future, including through starting a primary school oriented towards needy children and youth, God being her Helper.